Seine Freunde - Anthony Criss - Treach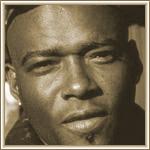 Birthday: December 2, 1970
Birth Place: Newark, New Jersey, USA
Birth Name: Anthony Criss

Treach ein Rapper der Gruppe Naughty by Nature, traf Tupac auf einer Public Enemy-Tour.
Sie verstanden sich sehr gut und nahmen gemeinsam den Track "5 Deadly Venomz", welcher ebenfalls auf "Strictly 4 my N.I.G.G.A.Z." veröffentlicht wurde.
Auch Treach widmete 2Pac einen Tribute Song namens "Mourn U Till I Join U", wenn man sich den Song anhört, kann man regelrecht spühren, was für eine gute Freundschaft zwischen ihnen bestand.

"[...]we was two lil niggas both skinny and broke
happy if we scrap pennies for smokes
tours over we were out yeah and you called with the news
you was over in ney york to film this movie called juice
called you back you told me back up me and you
and stretch could shack up
the thug luv back up the act up
? callen for us cause they know we all kicked up dust
you remember when the cabby said daddy wouldn't pick up our rings
you beat his ass then you spit in his face
i remember on the set from the trailer feens stole your jewls
and big stretch punched him out his shoes
back then i was taken stashes quick who holdin
thats when every piece of bud i was rolen was stolen
we would laugh at the jacks over six packs and yacks
spit the emos over demos thinken ladies and lemos
you was a wild motha fucka who could never sit still
said you wouldn't rest untill you saw a mill
nigga i felt you
we was back an forth burough to projects for forts
damn i wish they knew how much you loved new york
shit and can't nobody dis my nigga
motha fuck that i miss my nigga
i'm a mourn you til i join you

You ain't got to worry about how long i'm gonna morn ya,
I'm gonna keep your name on tha streets[...]"