Tupac Amaru Shakur - Books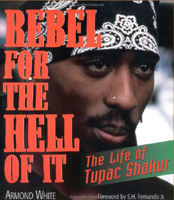 Titel: Rebel for the Hell of It : The Life of Tupac Shakur
Erscheinungsdatum: 1. September 1997
Autor: Armond White
Seitenanzahl: 200
ISBN: 1560251220

Einleitung:
Well-known journalist and author White describes the life of murdered rapper/actor Tupac Shakur (1971-96), attempting to connect Shakur's life with the African American experience during the last three decades. He begins with the rapper's birth to an absentee father and a mother who played a major role in the New York Black Panther movement. The author continues with the young Shakur's impoverished childhood, his constant moves from city to city, and his early interest in drama. Chronicling Shakur's short-lived but influential career, White outlines his stint as a dancer with the Digital Underground, his breakthrough second album, his three subsequent multiplatinum efforts, and his various roles in such movies as Juice and Poetic Justice. He also details the rapper's trouble with the law, his incarceration at Riker's Island prison, and his untimely death. Though clearly showing the change from the political activism and hope of Shakur's mother to Tupac's materialistic cynicism, White has interviewed few subjects and done only modest secondary research in his attempt to place the rap star in a larger social and cultural context. This will appeal mostly to fans of standard rock biography.?David P. Szatmary, Univ. of Washington, Seattle Copyright 1998 Reed Business Information, Inc.
---
Klickt hier, um einen Blick in das Buch zu werfen.

weiter zu amazon.de