Tupac Amaru Shakur - Books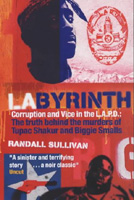 Titel: LAbyrinth: A Detective Investigates the Murders of Tupac Shakur and Biggie Smalls, the Implication of Death Row Records' Suge Knight, and the Origins of the Los Angeles Police Scandal
Erscheinungsdatum: 1. Februar 2003
Autor: Randall Sullivan
Seitenanzahl: 336
ISBN: 080213971X

Einleitung:
Sullivan makes a strong case for thinking that the murders of Tupac Shakur and Biggie Smalls are connected, and the LAPD Ramparts Division scandal is connected to them: A case of road rage devolves into two undercover cops exchanging gunfire, leaving the black one dead. The white survivor is soon in deep trouble, despite witnesses unanimously clearing him of illegalities, for the dead man was the current boyfriend of the estranged wife of Suge Knight, rap impresario supreme and reputed kingpin in the Bloods. Both Crips and Bloods are on the LAPD, which complicates investigating the gang-tinged murders of Shakur and Smalls, crimes in which police may have participated. L.A.'s is a relatively small department, but the number of officers linked to all these killings is incredibly large. One, Raphael Perez, eventually ties the tit-for-tat gangsta rap murders to the burgeoning Ramparts scandal. Then, when Johnnie Cochran rears his rhymin' head . . . You haven't got the goods on any of these notorious cases until you read this intricate show-biz true-crime thriller. Mike Tribby Copyright © American Library Association. All rights reserved -- Dieser Text bezieht sich auf eine vergriffene oder nicht verfügbare Ausgabe dieses Titels.
---
Klickt hier, um einen Blick in das Buch zu werfen.

weiter zuamazon.de